Saturday, February 14, 2009

Carlos and Felicia Chavez married 60 years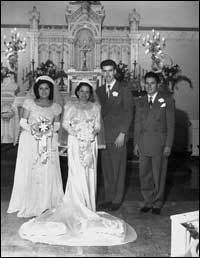 Carlos E. and Felicia L. Chavez of Rio Communities will celebrate their
60th wedding anniversary on Feb. 19. They were married on that date in
1949 in Bakersfield, Calif.
Carlos served for three years in the Navy during WWII , three years in the Army during the Cold War, and is retired as an operating engineer. He was a member of the Knights of Columbus in California. He enjoys fishing, hunting and gardening.
Felicia is a homemaker and enjoys crocheting and sewing.
They are members of Our Lady of Belen Catholic Church.
They are the parents and in-laws of Joe and Mariann Chavez of
Bakersfield, Calif.; Anita M. Ulibarri of Belen; the late Carlos E.
Chavez Jr.; Albert and Tina Chavez of Bakersfield; and Susie Chavez of
Albuquerque.
Their grandchildren and in-laws are Patricia and Adam Chestnut of
Talent, Ore.; Tiffany and C.J. Kelton of Medford, Ore.; Anna and Eric
Tolliver of Belen; Kasey Chavez of Bakersfield; Samantha Doyle of
Albuquerque; and Amy Chavez of Bakersfield.
Their great-grandchildren are Tucker Chestnut of Talent, Ore.; Haillie Kelton of Medford, Ore.; and Thomas Carlos-Meliton Tolliver of Belen.
They plan a quiet celebration at home.